Your 60 minute Virtual Walk begins beside the historic St. James Church in the village of Chipping Campden,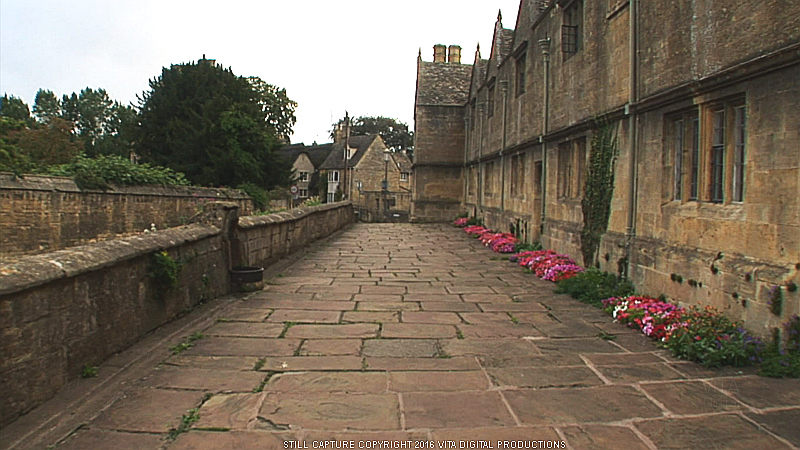 Passing the Alms House you follow Church Street until it intersects with High Street.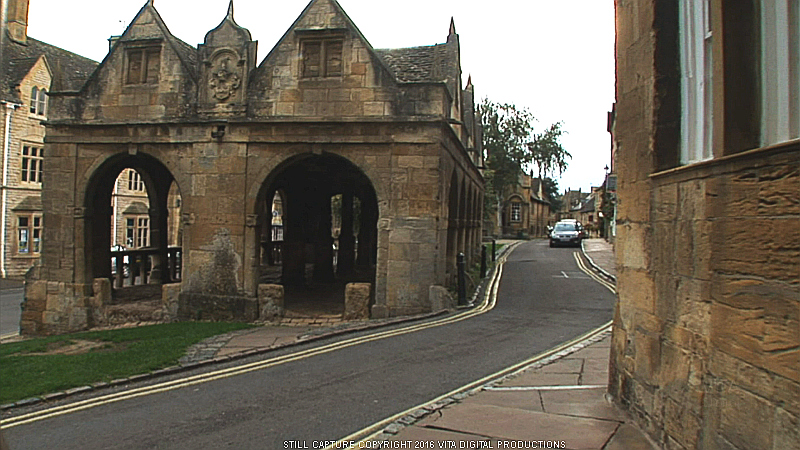 Once on High Street, you encounter and pass through the famous Market Hall.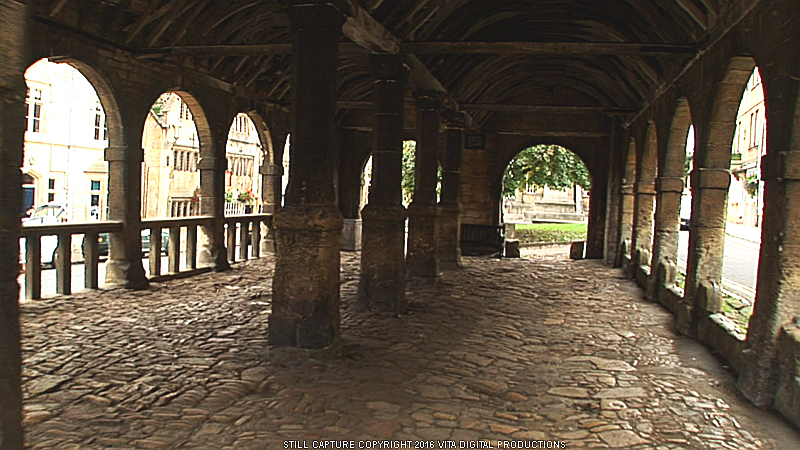 The Market Hall was built in 1627 by Sir Baptist Hicks, a prosperous Wool Merchant of that period.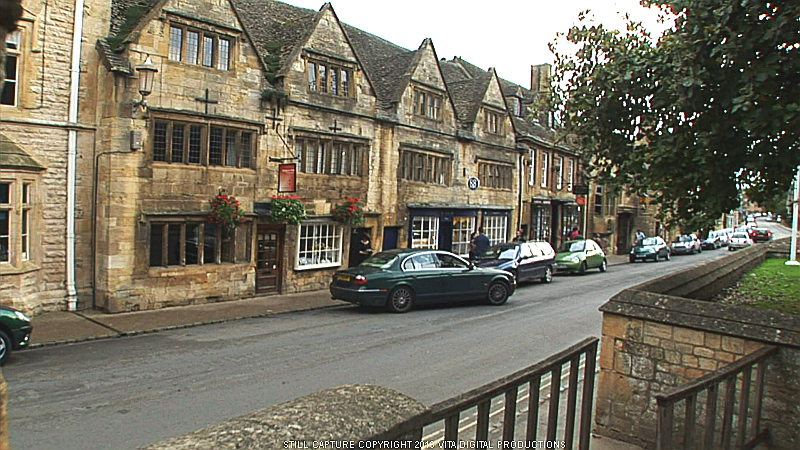 Leaving Market Hall, you pause for a brief look at the typical honey-coloured limestone buildings
typical of the Cotswolds.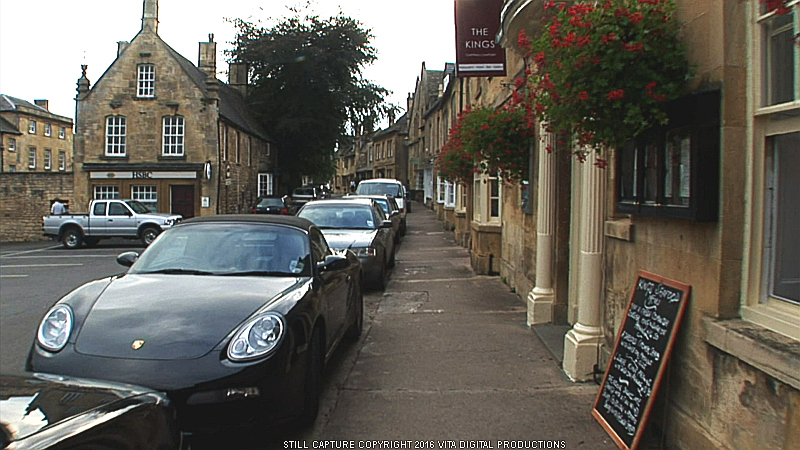 Then on down the street and eventually out of the center of Chipping Campden.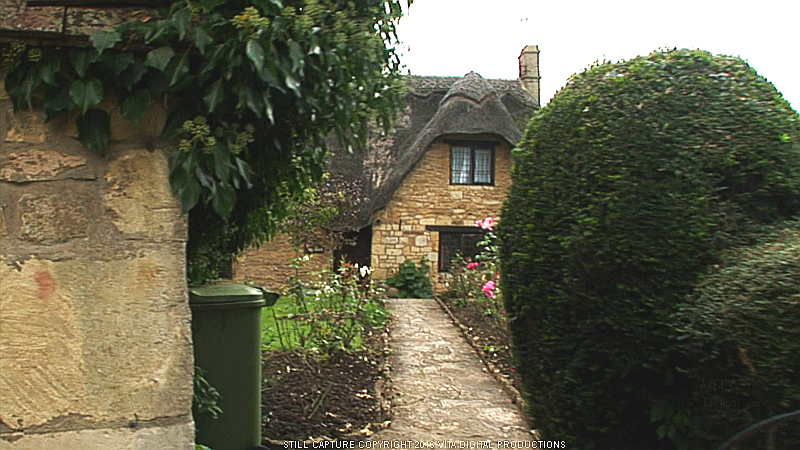 On the outskirts of Chipping Campden, you pause to admire "Little Orchard," the home of Graham Greene,
the prolific English novelist, playwright, short story writer, and critic and his wife Vivien between 1931 and 1933.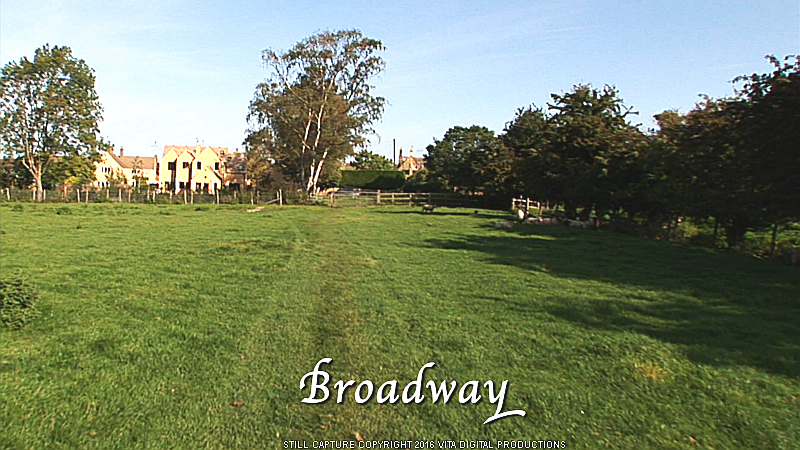 Following the Cotswold Way, a 102-mile footpath and designated National Trail since 2007,
you enter the east end of the village of Broadway by passing through a sheep field.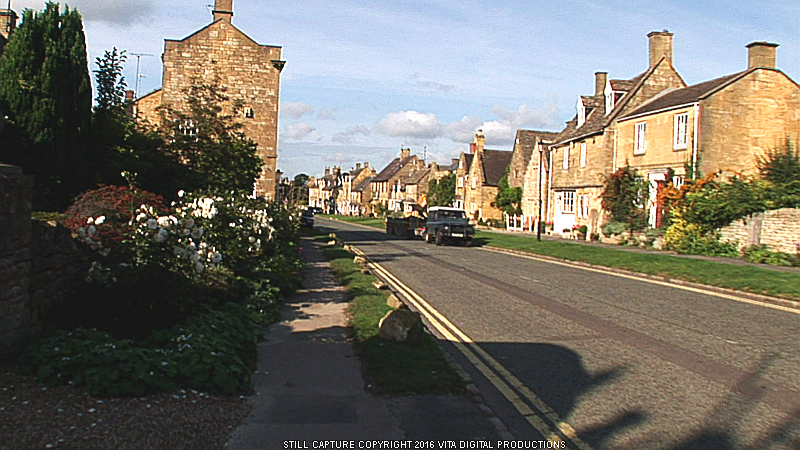 Broadway has a wide main street lined with red chestnut trees and
honey-coloured Cotswold limestone buildings, many dating from the 16th century.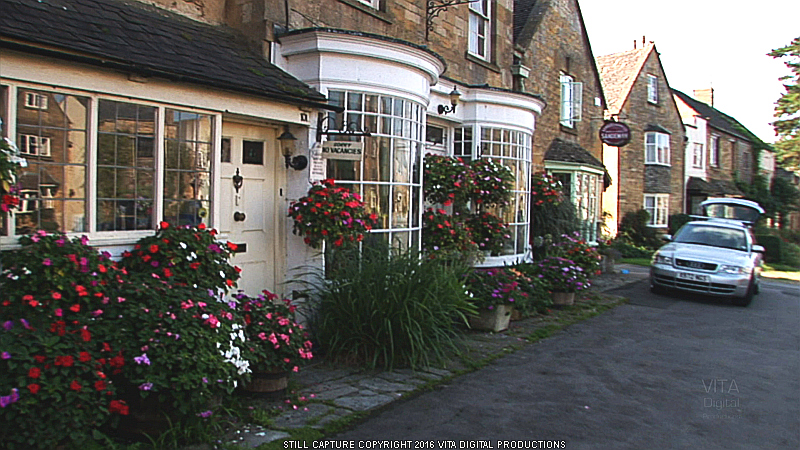 Often referred to as the "Jewel of the Cotswolds," Broadway is a center for arts and antiques...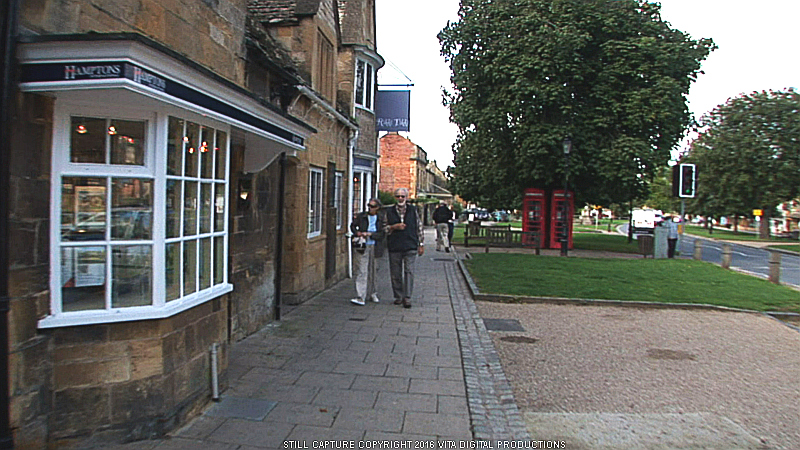 and has a unique character all its own...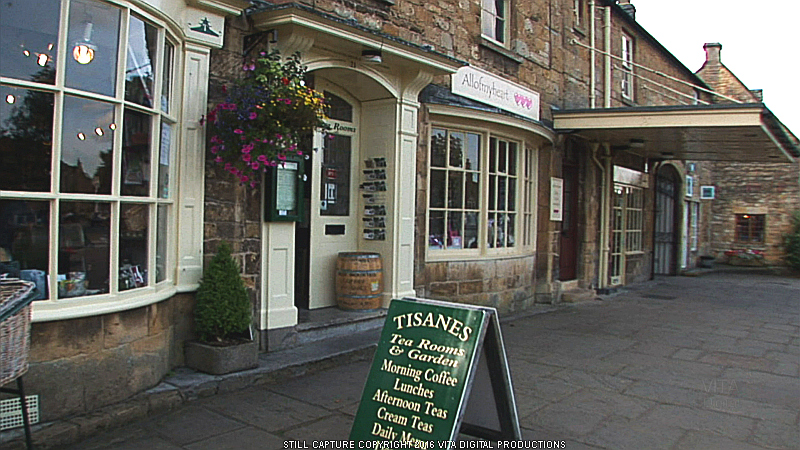 with tea rooms...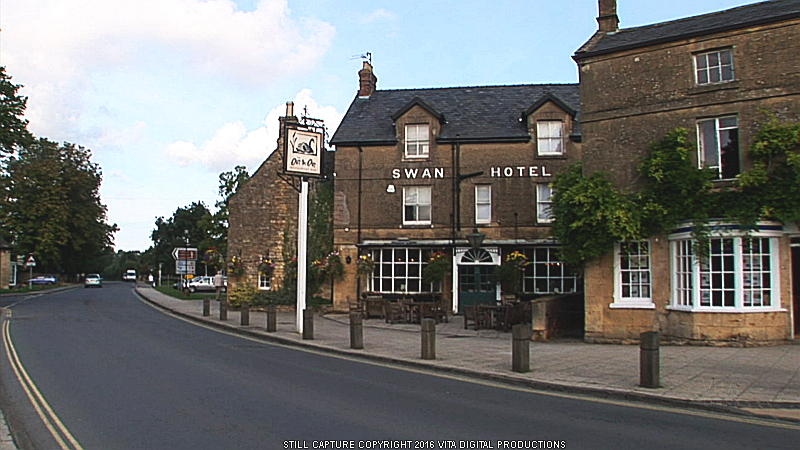 hotels and pubs...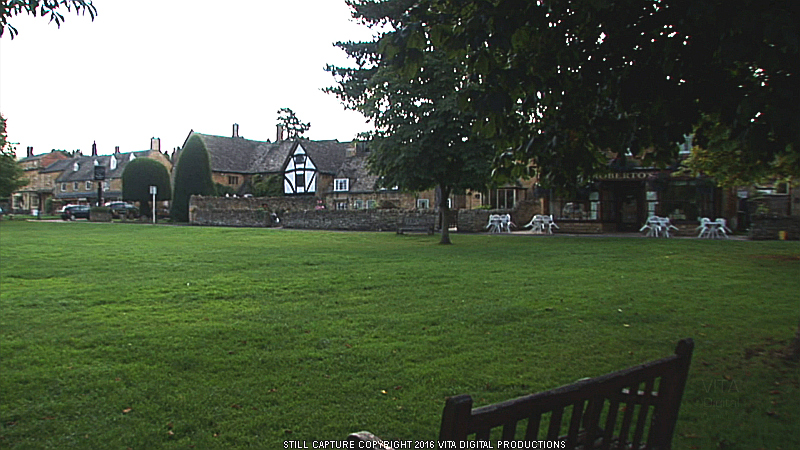 all clustered near the expansive village green.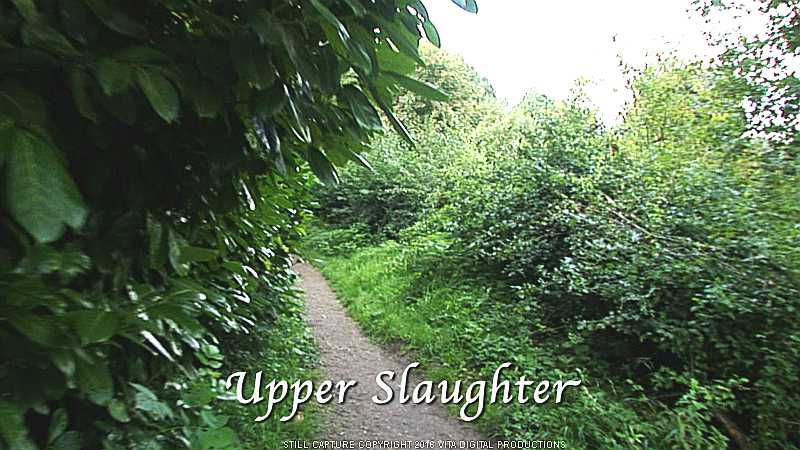 Then it's on to the small village of Upper Slaughter on a footpath beside the River Eye.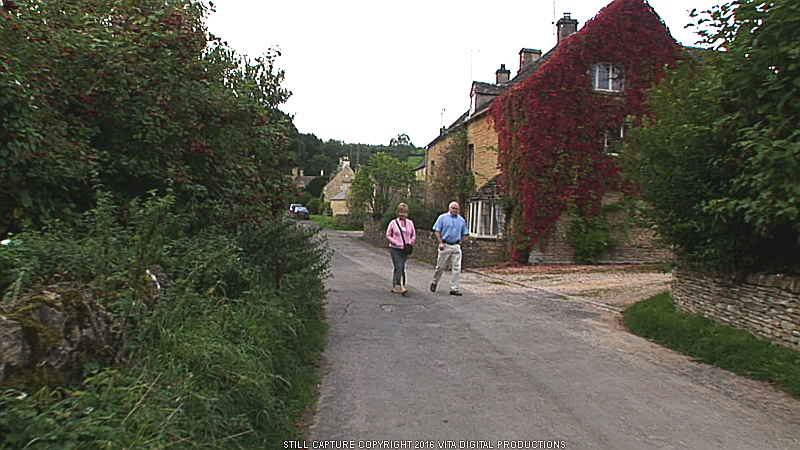 Upper Slaughter was identified by author Arthur Mee as one of 32 "Thankful Villages."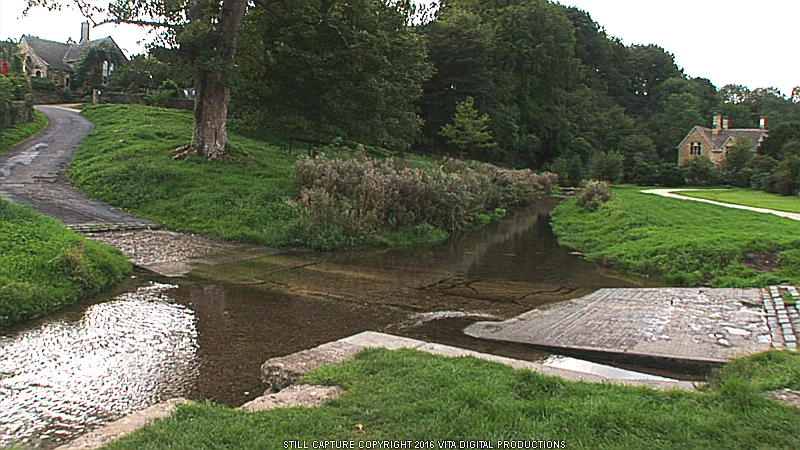 In Enchanted Land (1936), he wrote "that a Thankful Village was one which had lost no men in the Great War
because all those who left to serve came home again."
Although the village was subject to an air raid, it also lost no men in World War II,
an honor held by only 14 villages, known as the "Doubly Thankful Villages."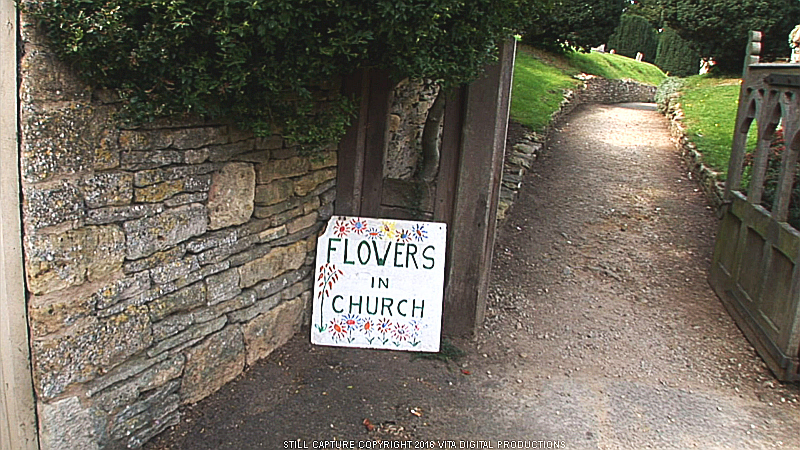 Climbing the hill and turning to the right, you encounter a sign reading "Flowers in Church."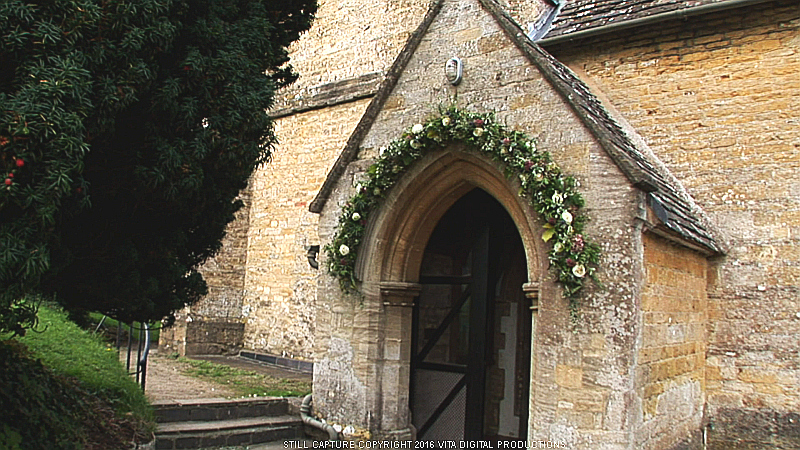 St. Peter's is the quintessential country church complete with working bells and polished pews.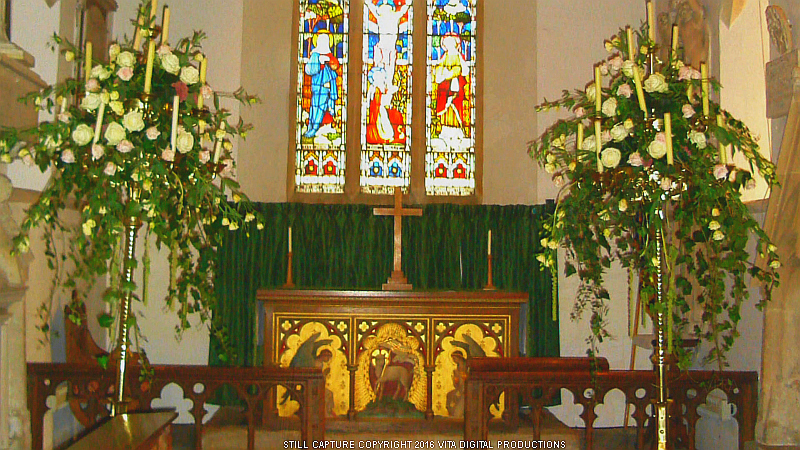 The church was renovated in 1877. During that renovation, much of the original fabric was re-used,
and the original plan of the medieval church was not greatly altered.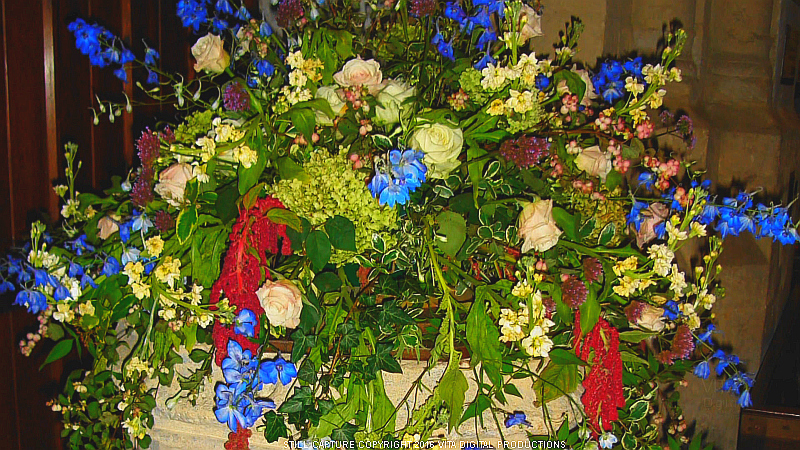 St. Peter's is lovingly decorated by local parishioners using flowers grown in their gardens.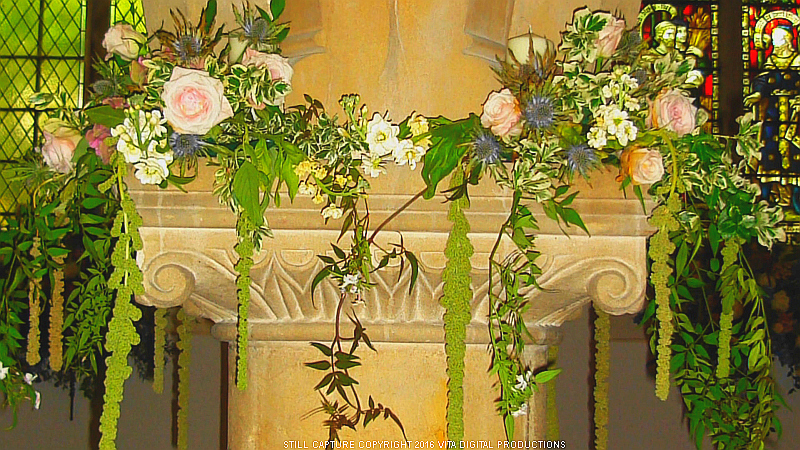 And after taking time to admire the "Flowers in Church,"...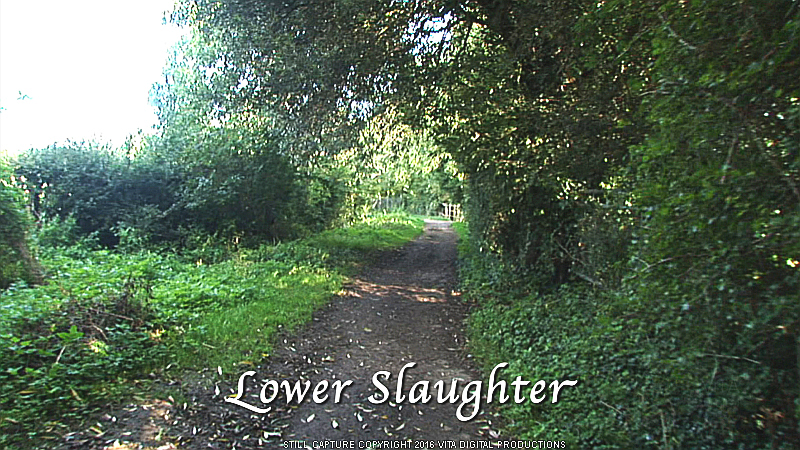 you move on to the nearby village of Lower Slaughter...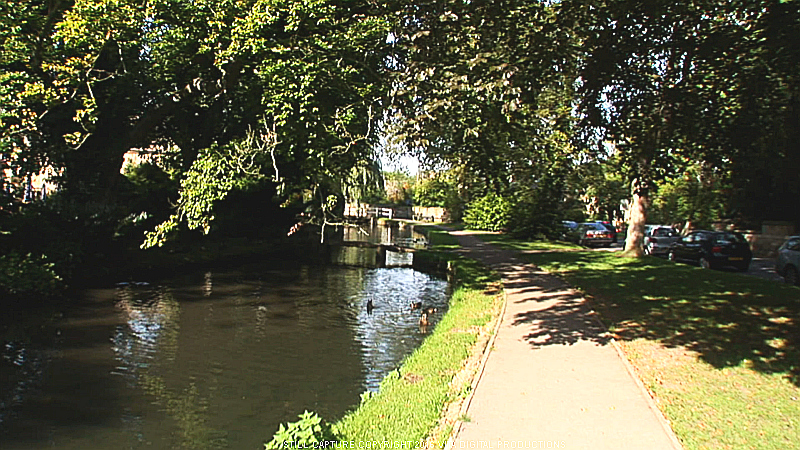 entering by walking on a small path beside the River Eye.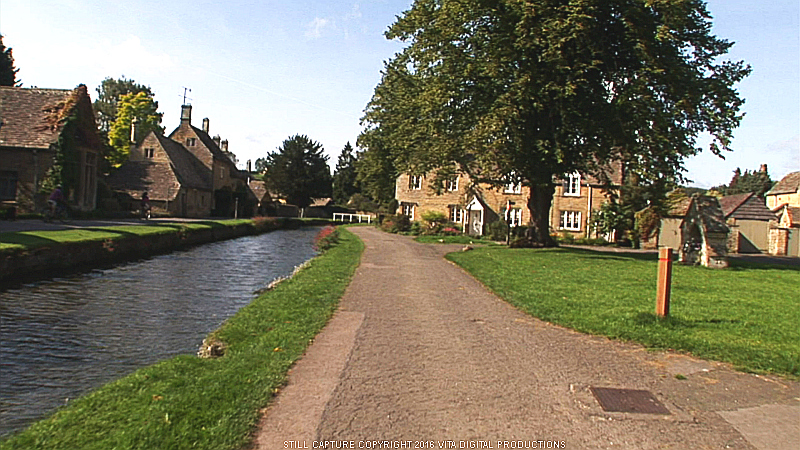 As in Upper Slaughter, the village of Lower Slaughter is situated on both banks of the River Eye.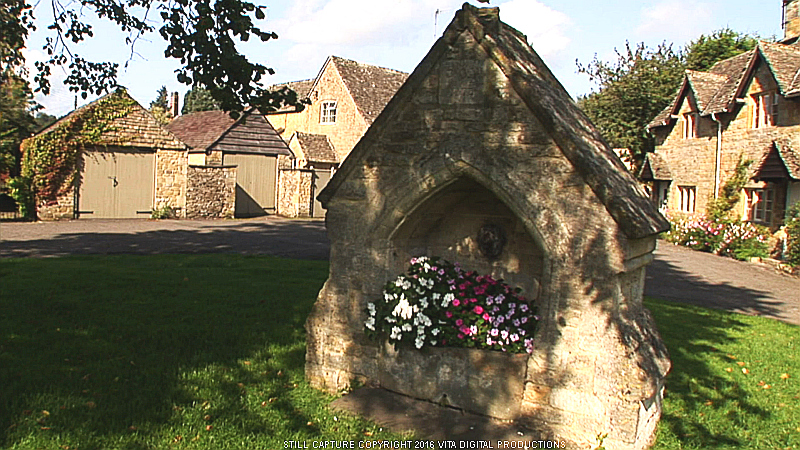 Records exist showing that Lower Slaughter has been inhabited for over 1000 years.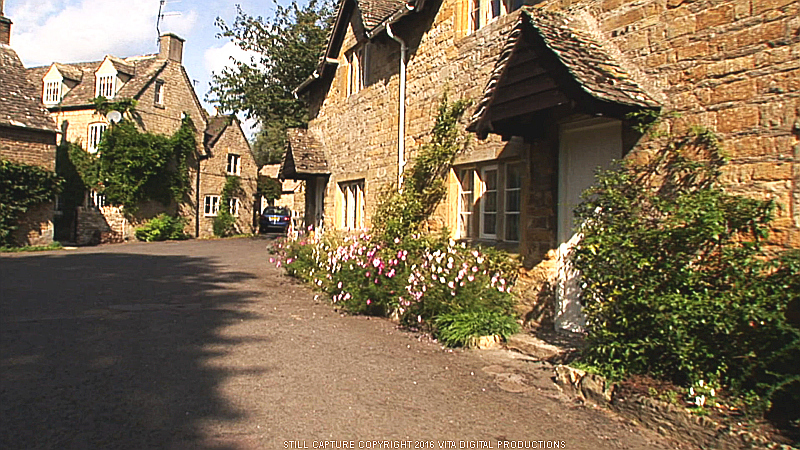 Most of the 16th and 17th century homes in the village use Cotswold sandstone and are adorned
with mullioned windows and often with other embellishments such as projecting gables.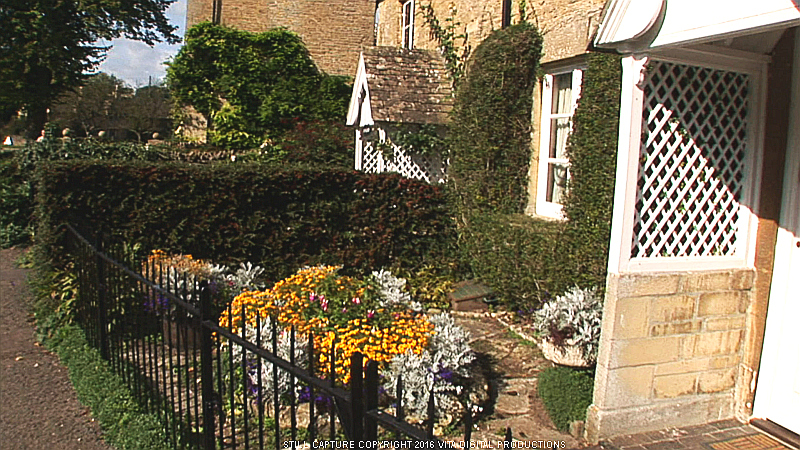 You pause to enjoy the profusion of blooming flowers...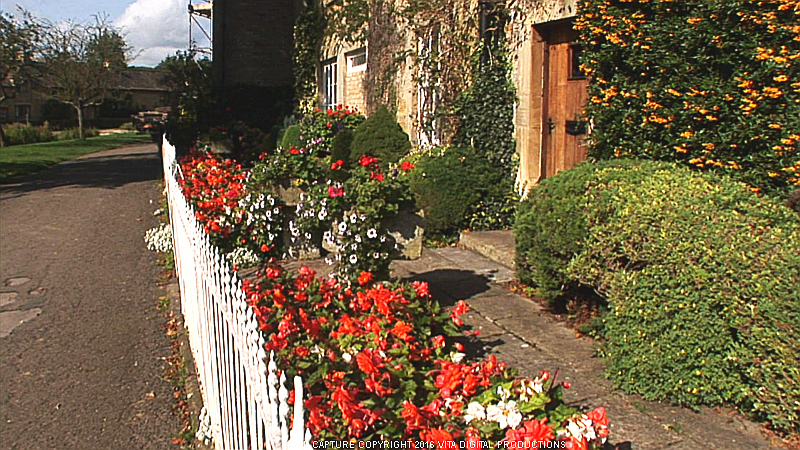 in almost every yard.
You next cross a stone footbridge...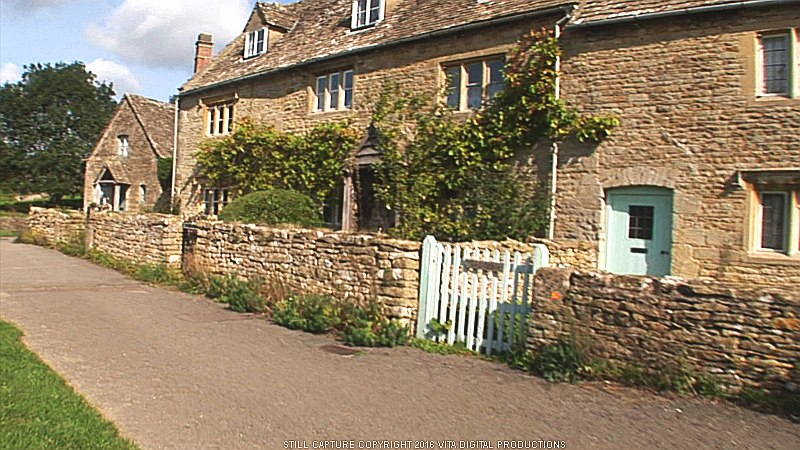 and turn left...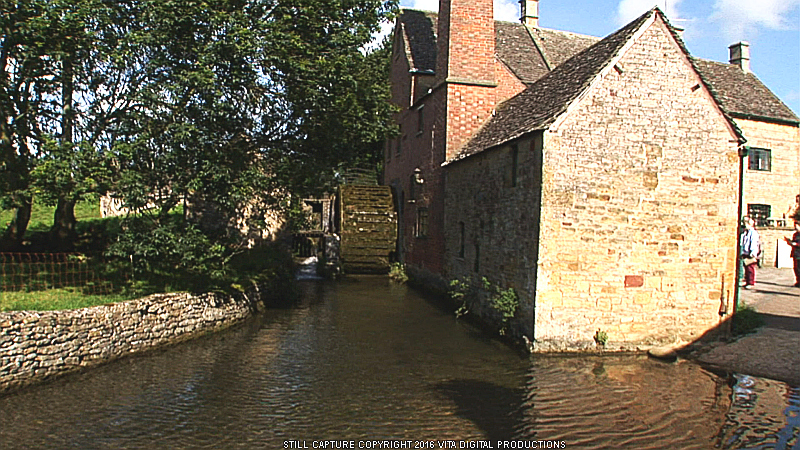 and pause again to view a 19th-century water mill with an undershot waterwheel and a chimney for additional steam power.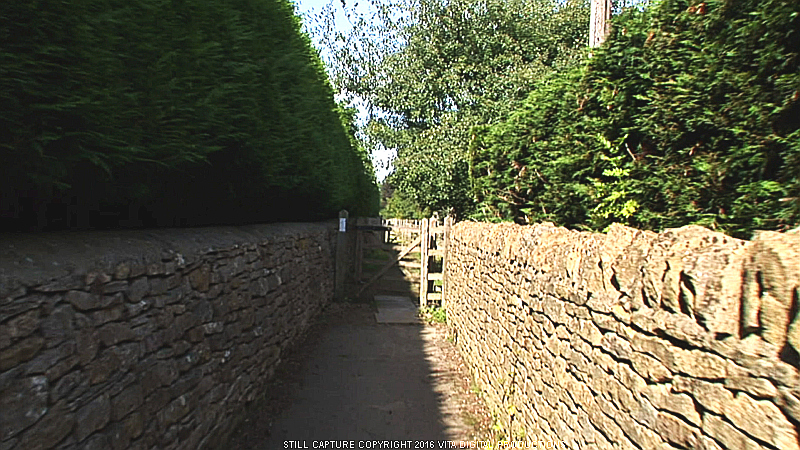 Behind the water mill, you turn onto a small path and pass through a gate...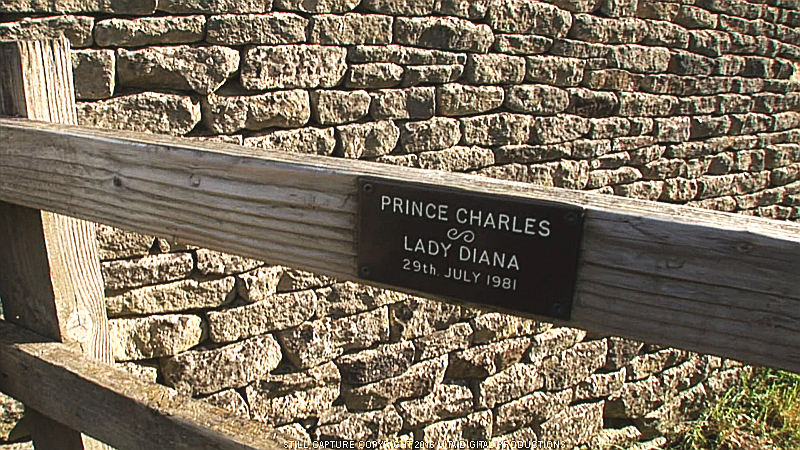 which commemorates a visit by Prince Charles and Lady Diana in 1981.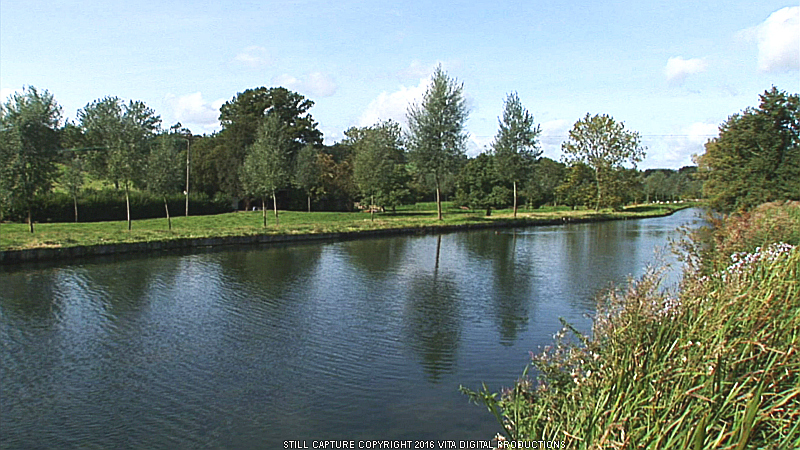 You continue walking northwest out of the village, beside the now wider river.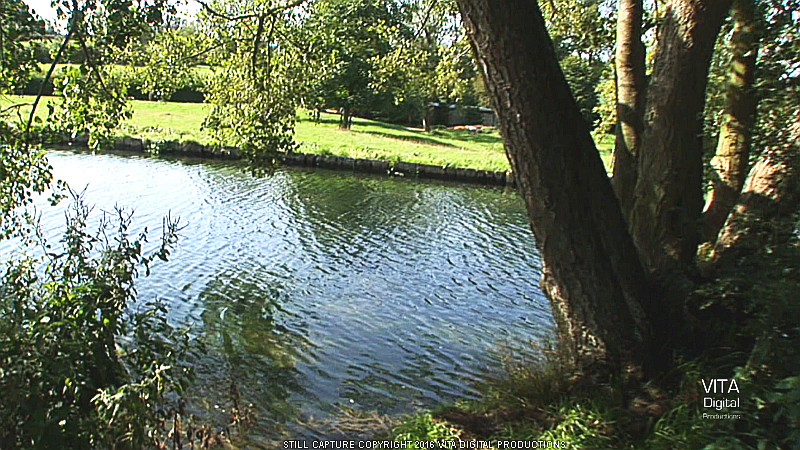 Your one hour Cotswold Villages - Volume 1 Walk ends here beside the River Eye.
As a BONUS on your DVD* you get....
(*Sorry, this Bonus Feature is not available on the HD Download.)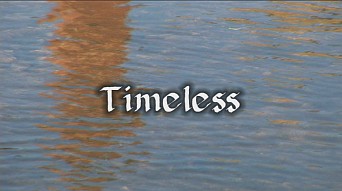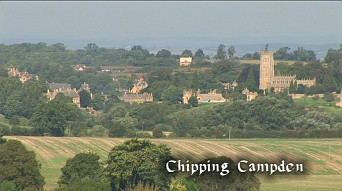 "Timeless," a BONUS CHAPTER with a 13-minute featurette on the Cotswolds is also
included on this DVD! This featurette is accompanied by light classical music.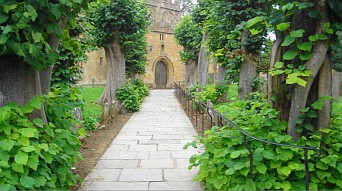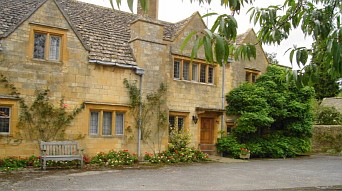 The featurette takes a closer and more intimate look at the quaint villages
in this beautiful area of the Cotswolds.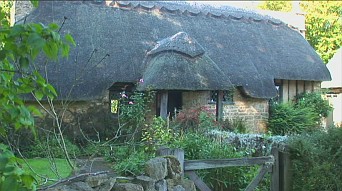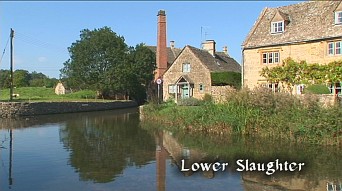 Renowned for their picture-postcard villages,
the Cotswolds are famous the world over.
---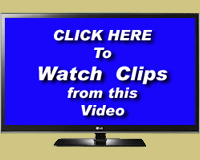 To Purchase this video as a DVD or as a 720p HD Download, please click here.
---

One of VITA Diigital Productions' unique
Virtual Experience Videos
(All photos on this page are
actual still frames
from this video.)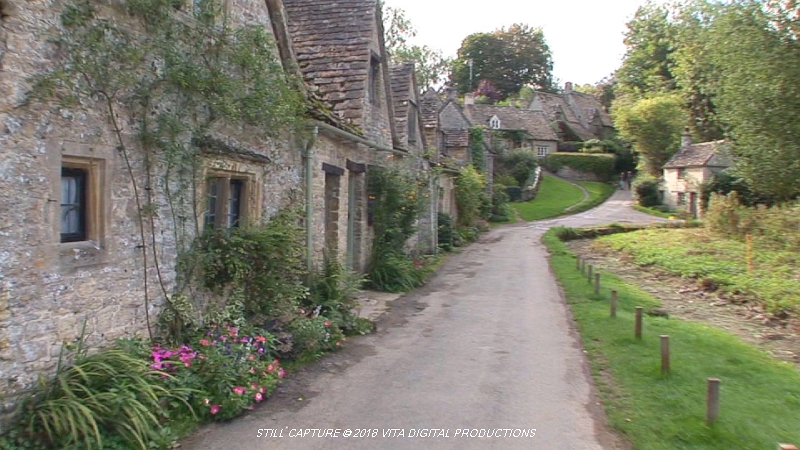 This
new DVD or HD Download
with a 60 minute widescreen virtual walk through five more villages
in England's scenic
Cotswolds
is the perfect companion to your treadmill, Nordic Track, or exercise bike
or just the
perfect gift
for friends and family.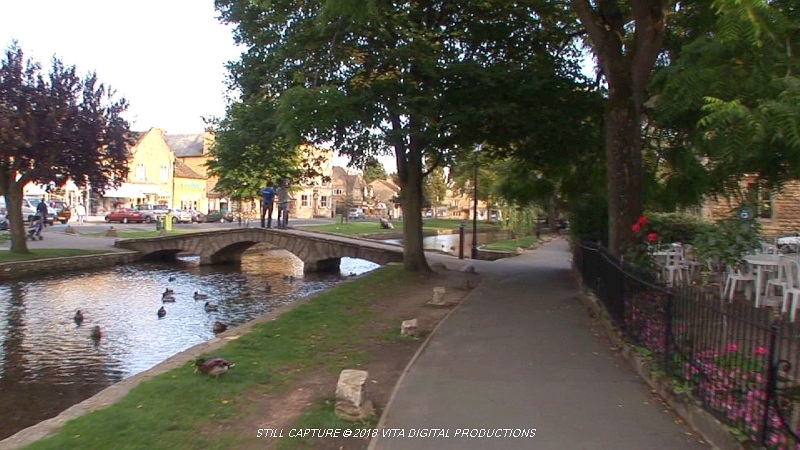 Using either the DVD version or the 720p HD Download you could be instantly "walking" in five more of the
most scenic villages in Gloucestershire! Your time spent exercising on your treadmill, elliptical or Nordic Track
will "fly by," you'll exercise longer and enjoy every minute!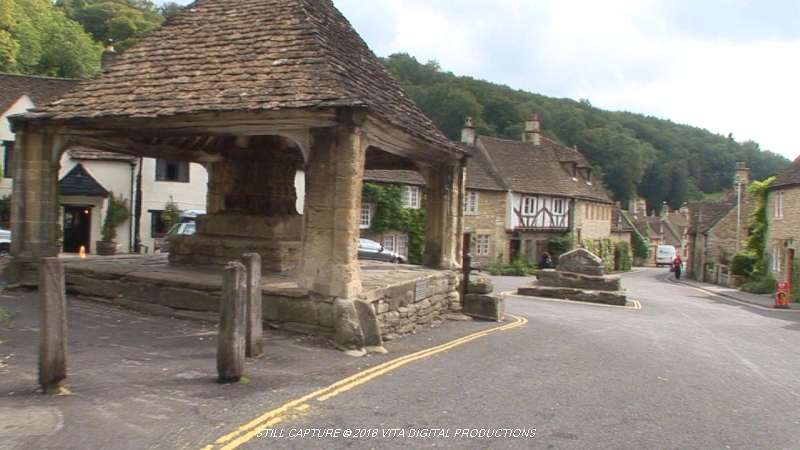 If you enjoyed our Cotswold Villages Walk - Volume 1, then you will certainly enjoy Volume 2
in which you visit 5 more quintessential English Villages.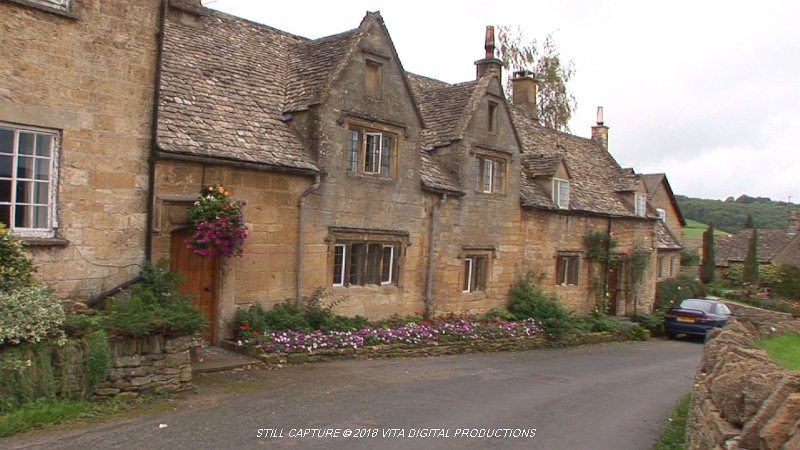 With this 60 minute Virtual Walk Video, you'll experience
the beauty and charm of five of the most picturesque villages in England.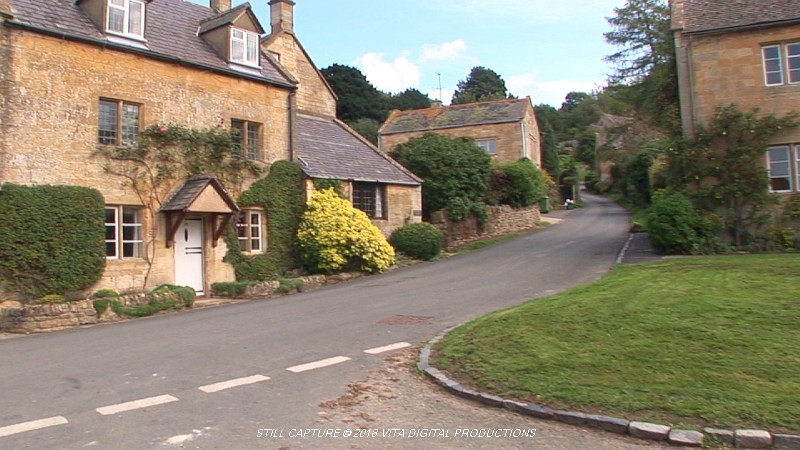 Filmed in Widescreen with a professional High Definition* television camera, you'll enjoy
the charming English scenery.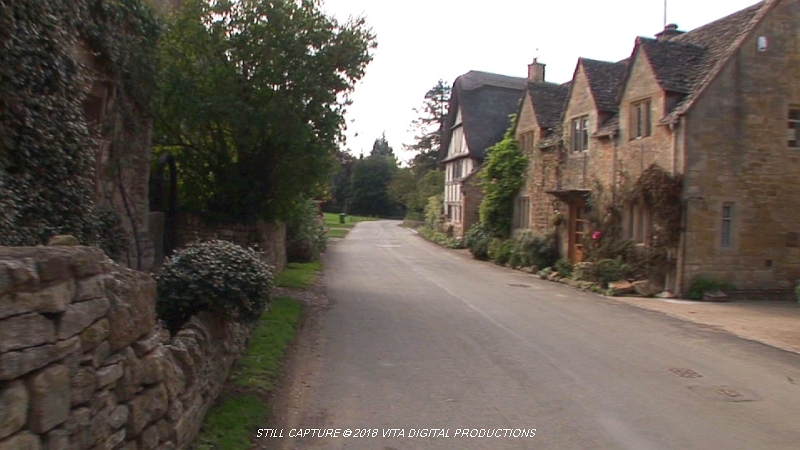 This is not a traditional travel video.
The television camera is constantly moving you forward, transporting you
through five lovingly tended villages in England's Cotswolds.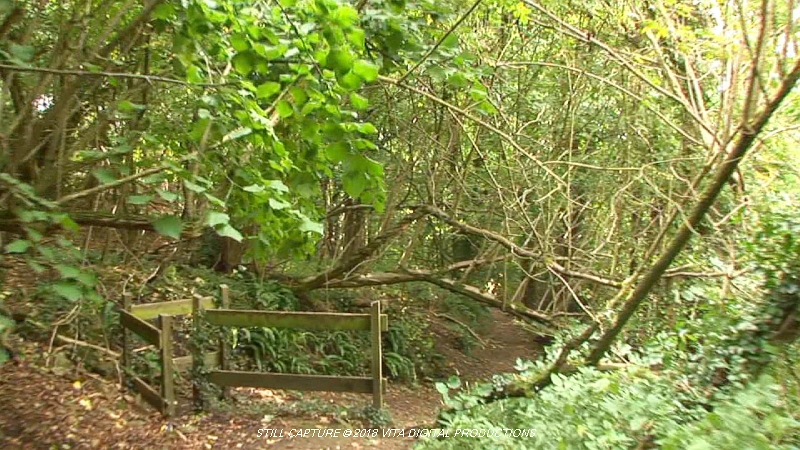 The 60 minute Virtual Walk Video is accompanied by the natural sounds
just as they were recorded in Dolby Stereo in Gloucestershire.
---
Exercising has never been easier or more enjoyable!

Your time spent exercising on a treadmill will "FLY BY!"

And this one hour video is so rich in details
that you will notice something new every time you view it.

But you don't have to own a treadmill
to enjoy this HD Download or DVD.

It also makes the perfect gift for people who want
to experience five additional English Villages in a totally unique way:
a way not possible with traditional travel videos.
---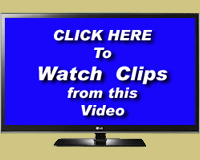 To Purchase this video as a DVD or as a 720p HD Download, please click here.
---

A Detailed Description of the Virtual Walk on this Video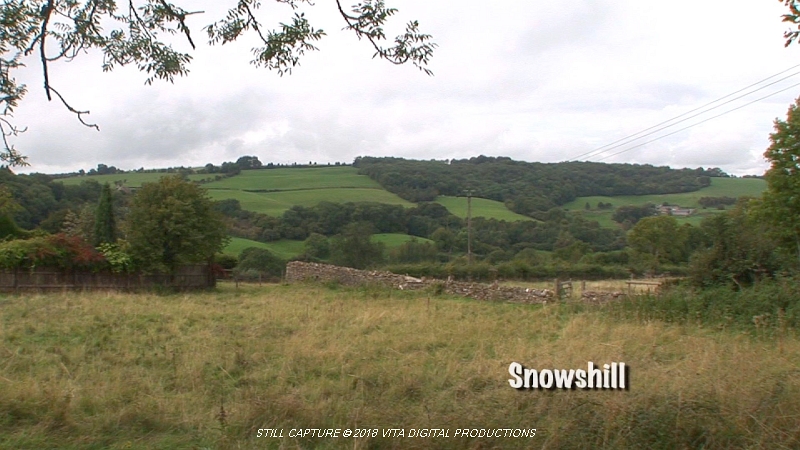 The first part of your 60 minute walk begins outside of the charming village of Snowshill.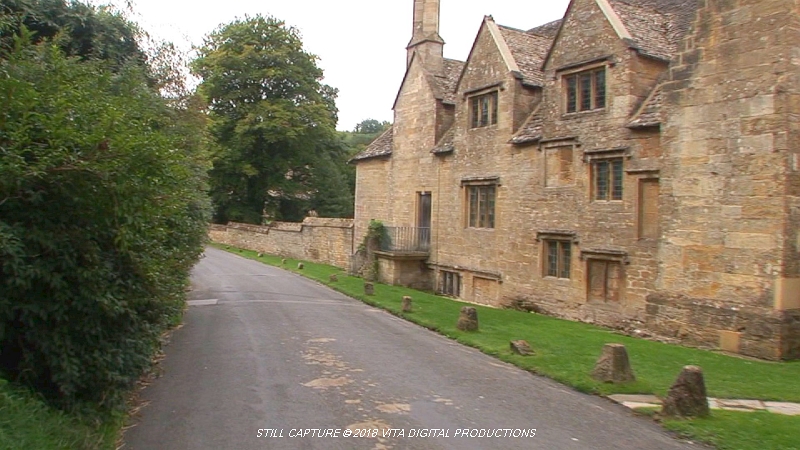 Walking down the hill and past some typical honey-colored cottages, constructed of local limestone...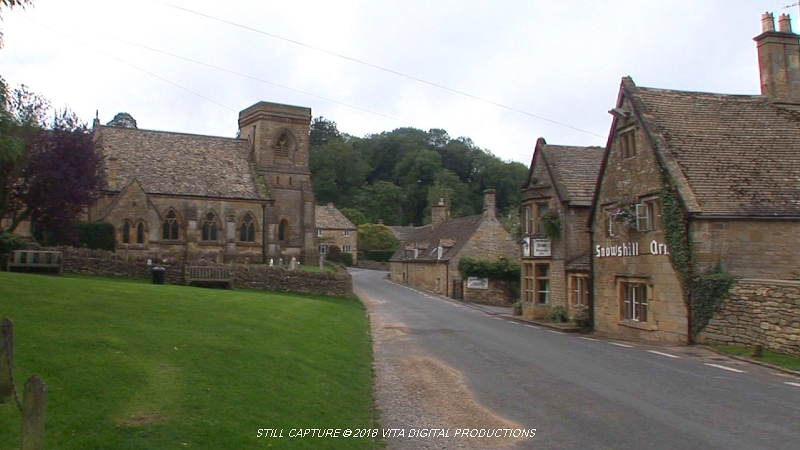 you eventually reach the center of Snowshill, which was used as a
filming location for the PBS Series, "Father Brown."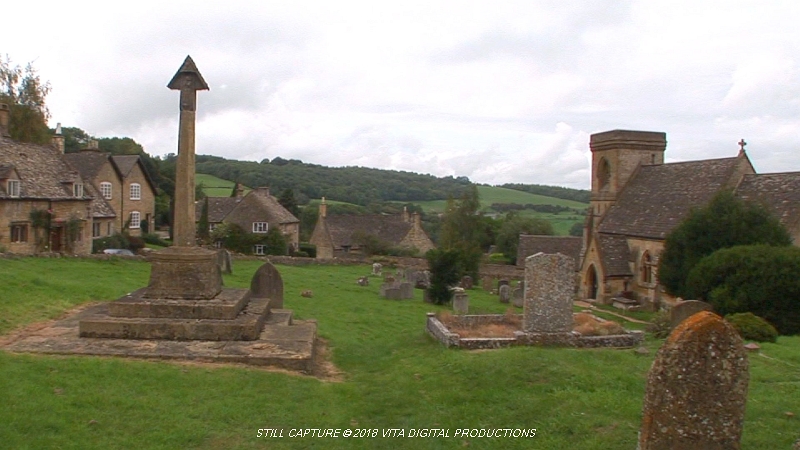 Continuing on with your walk, you pause for a moment beside the Church of St. Barnabus
and its old graveyard with so many stories to tell.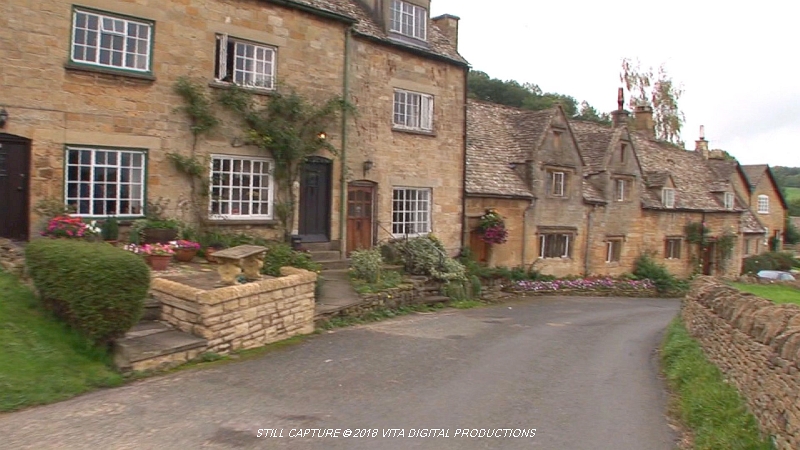 Designated as an Area of Outstanding Natural Beauty (AONB) in 1966, the Cotswolds
is the largest AONB in England.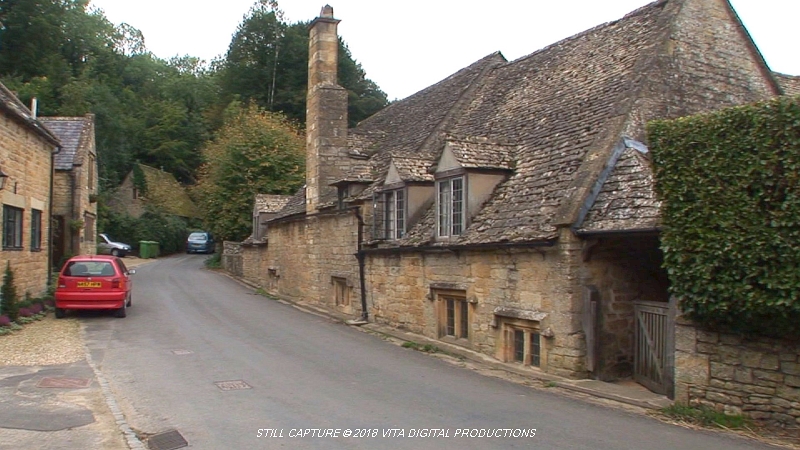 Your walk through Snowshill pauses periodically to contemplate the various quaint cottages
found here before ...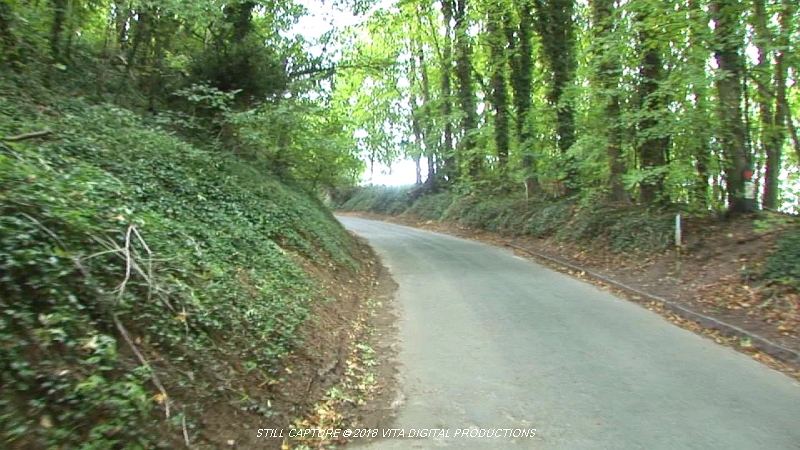 leaving the village by way of a tree-lined road.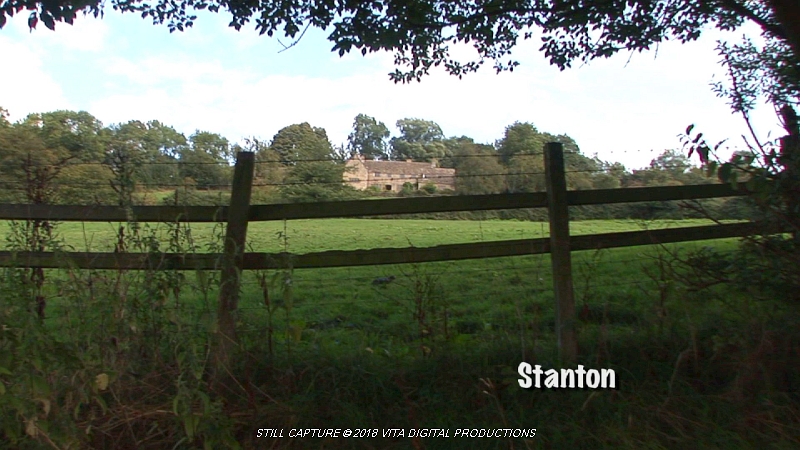 Your walk continues as you next enter the village of Stanton.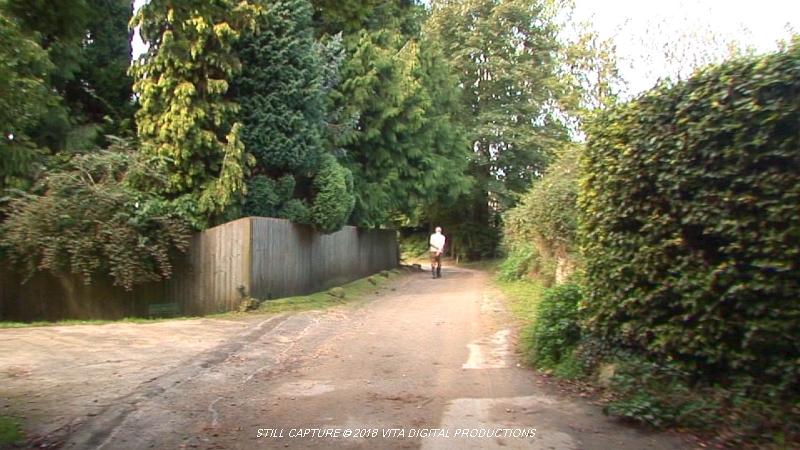 Walking behind an elderly gentleman out for a stroll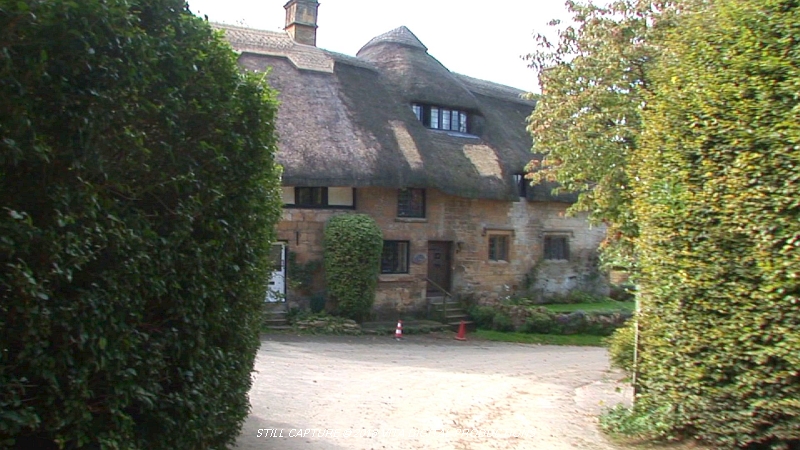 you stop to take in a lovely thatched-roofed cottage on the outskirts of Stanton.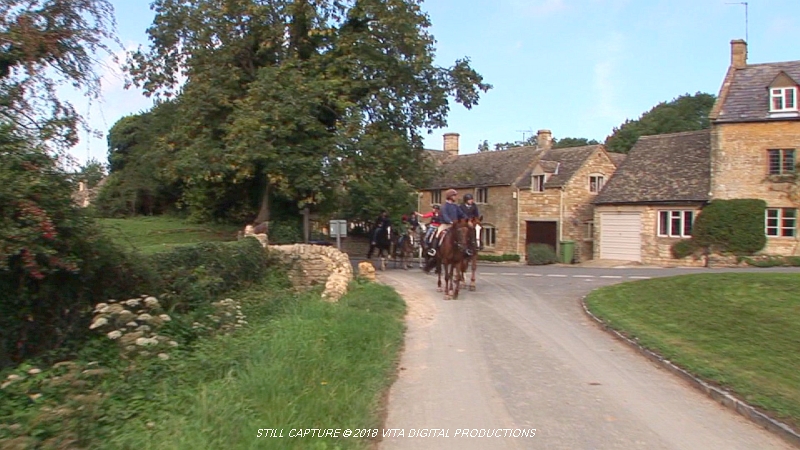 Further on, a group of riders pass as you enter into the center of this traditional Cotswold village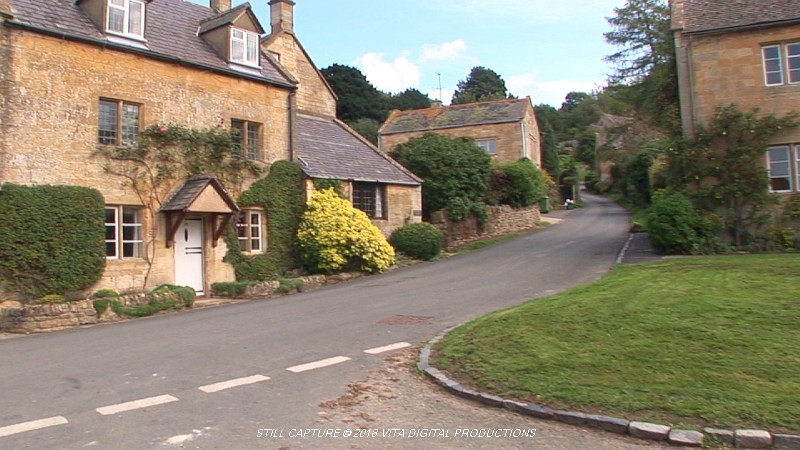 Everywhere you look, green plants are thriving.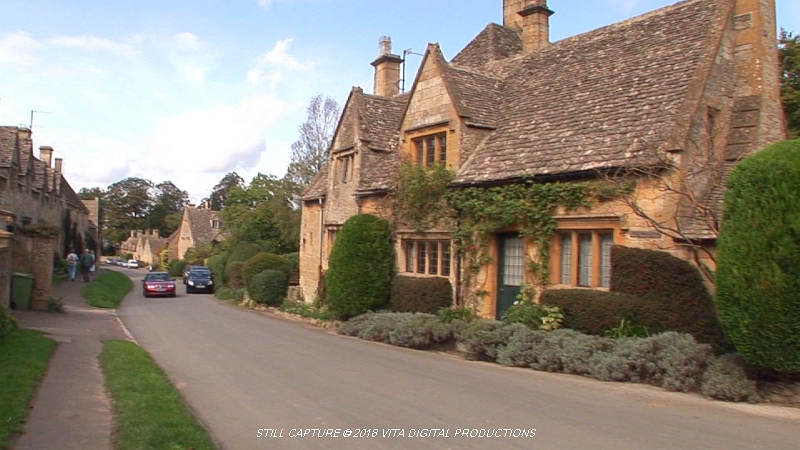 Following the "Cotswold Way" road post, you leave Stanton ...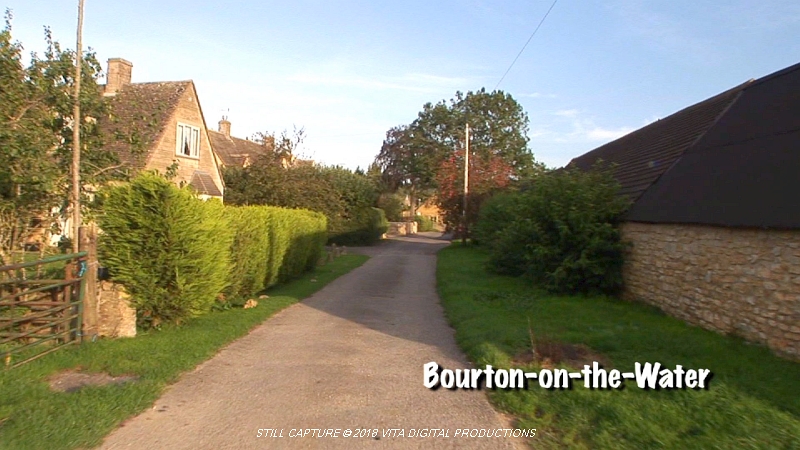 and next enter into the picturesque village of Bourton-on-the-Water.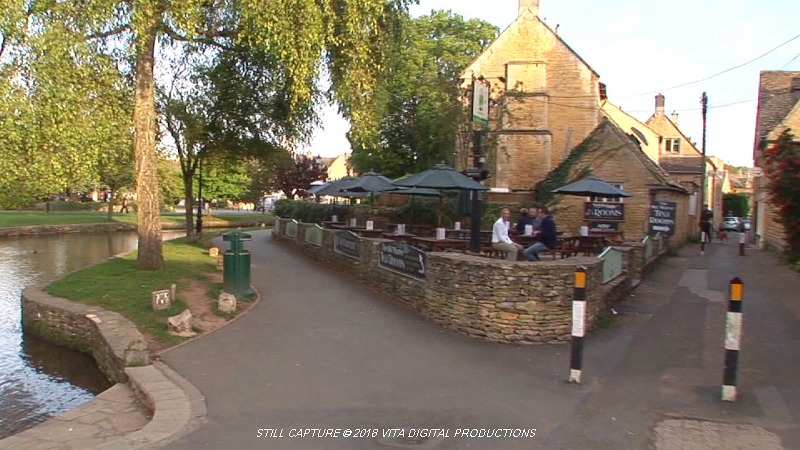 The River Windrush flows through the heart of this popular Cotswold village.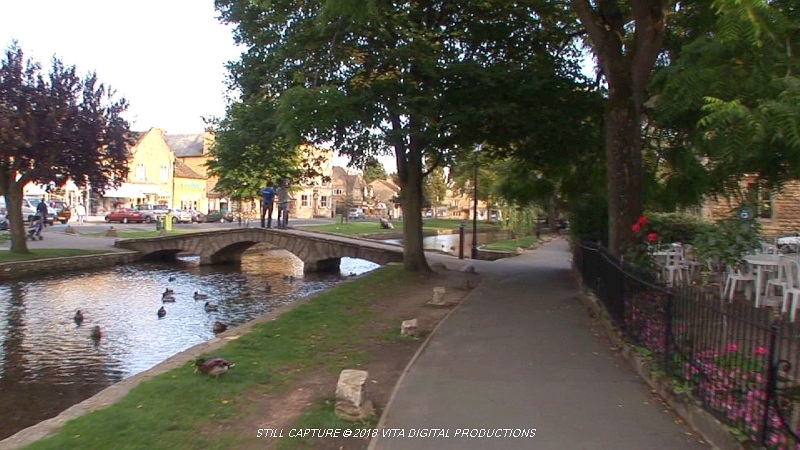 Your walk follows the footpath beside the river as it cuts through the village.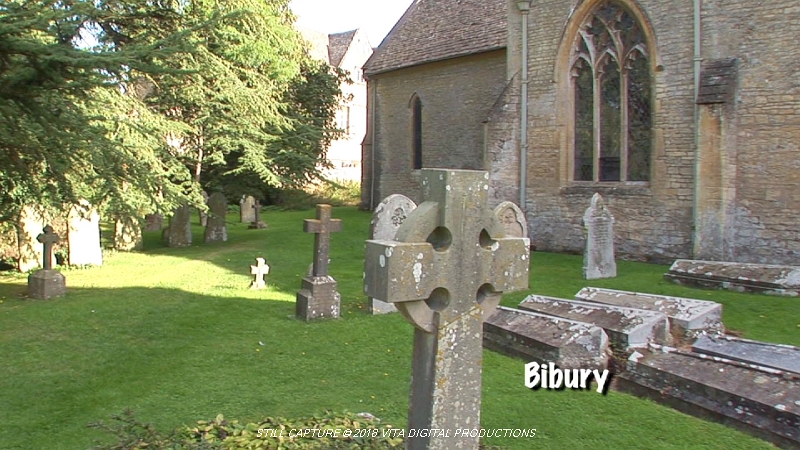 The idyllic village of Bibury is next on your walk. Starting at the Church...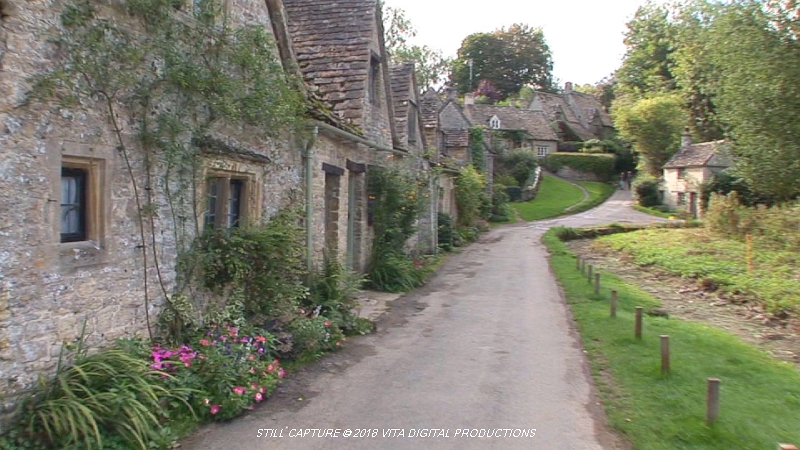 you soon pause at the famous Arlington Row, certainly one of the most well-known sites in the Cotswolds.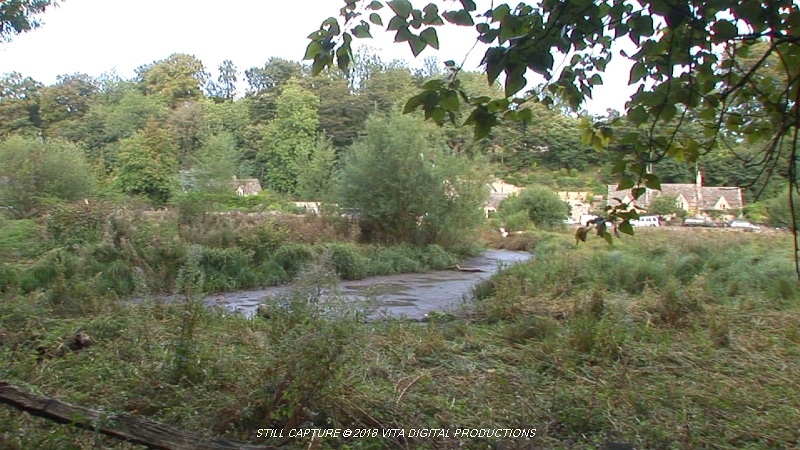 Further on, your walk takes you beside Rack Isle, where dyed woolens were once hung to dry...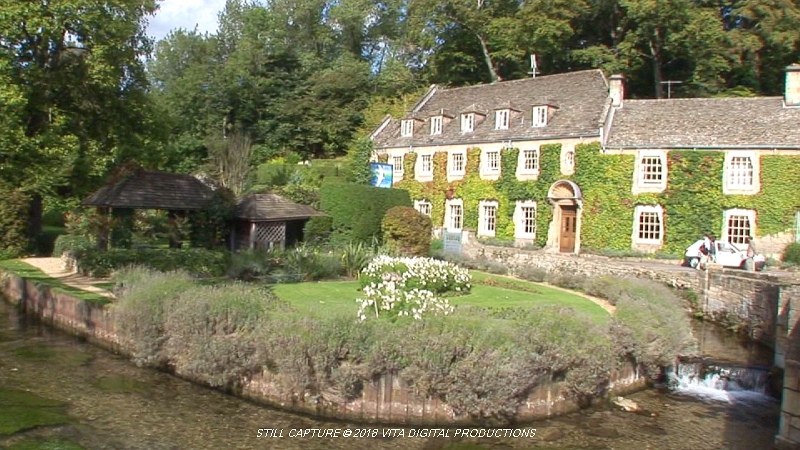 and on through the village and past the historic Swan Hotel.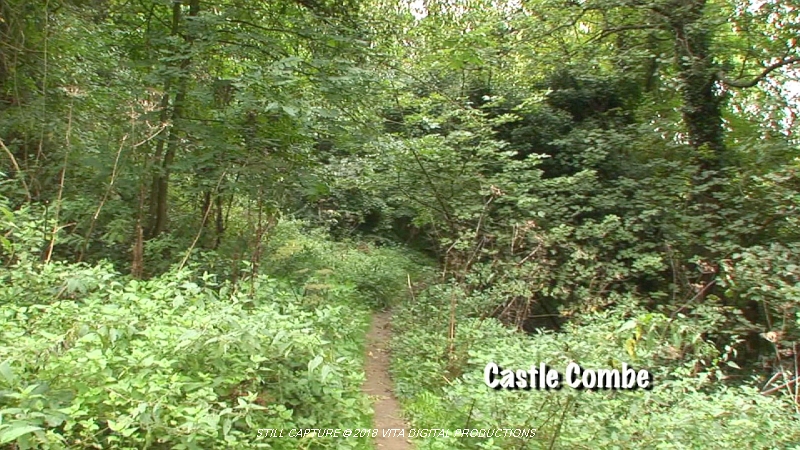 And last, your hour-long walk takes you into arguably the most scenic village in all of the Cotswolds, Castle Combe.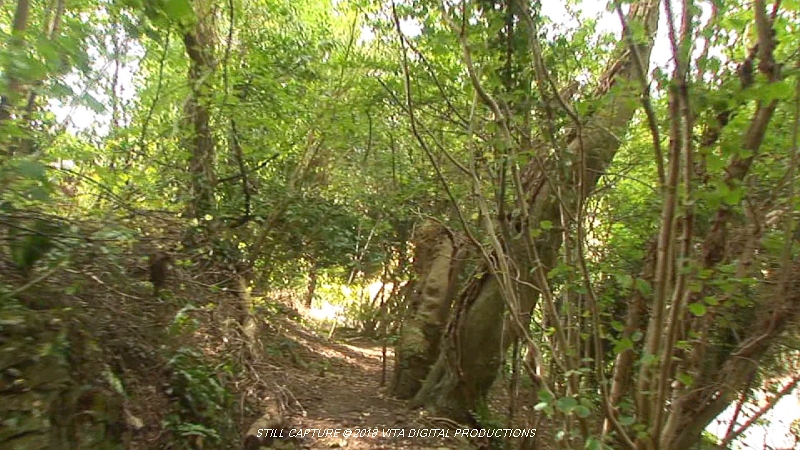 You follow a narrow forest footpath...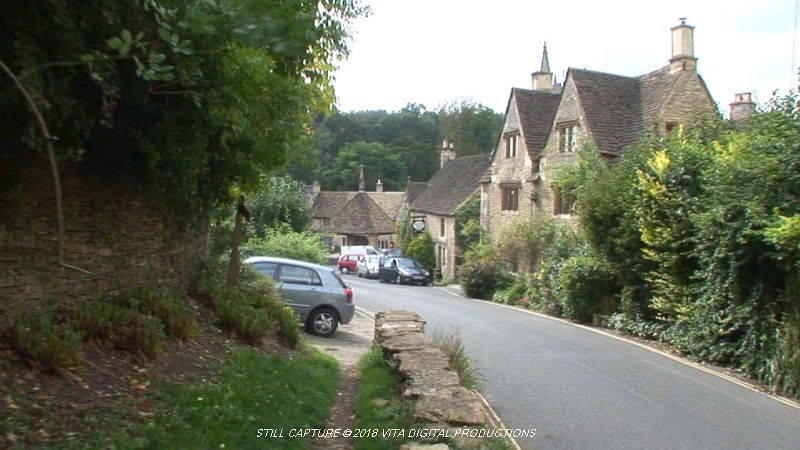 and suddenly the village appears - as if by magic.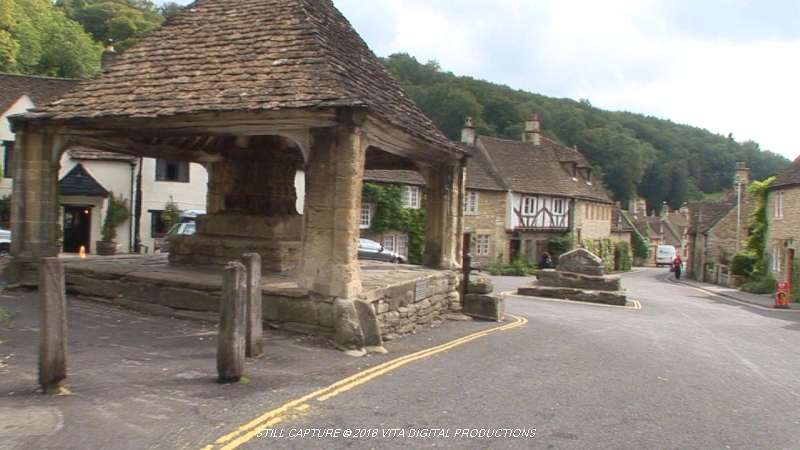 This quintessential old English Village has been the setting of numerous TV programs...
including an Agatha Christie's Hercule Poirot mystery along with the children's motion picture, Dr. Dolittle...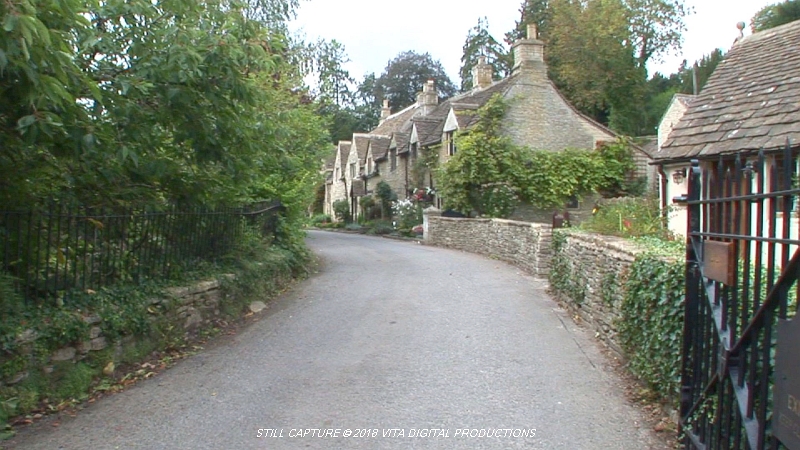 Steven Spielberg's production of War Horse, nominated for 6 Oscars, along with the motion pictures
Stardust and The Wolfman were filmed in this picture-postcard English Village.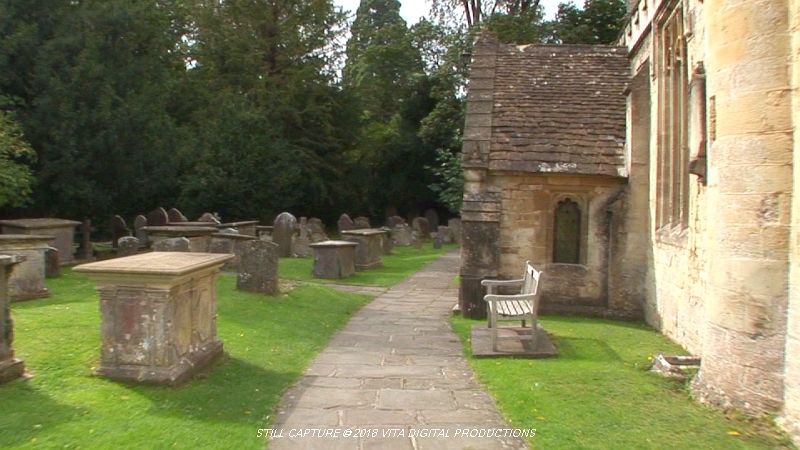 Your walk will actually take you inside this quiet and tranquil church to view the
effigy of a knight in a suit of chain mail who has rested here for centuries.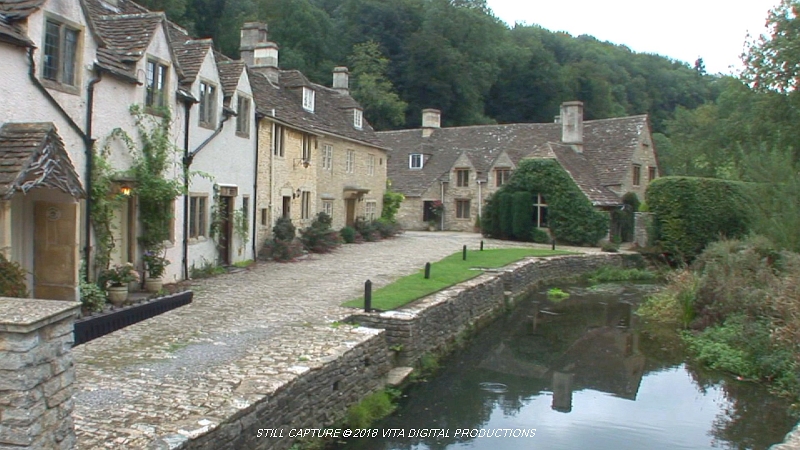 After a complete walking tour of this picturesque village, your 60 minute walk ends here, at the By Brook.
---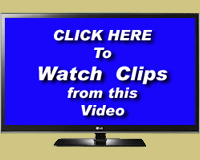 To Purchase this video as a DVD or as a 720p Download, please click here.
---
As a BONUS on your DVD* you get....
(*Sorry, this Bonus Feature is not available on the HD Download.)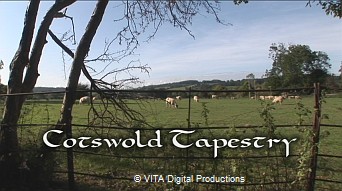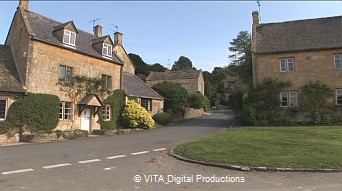 "Cotswold Tapestry," a bonus chapter with a 12-minute featurette
on the villages visited in this Cotswolds Virtual Walk, is also included on this DVD!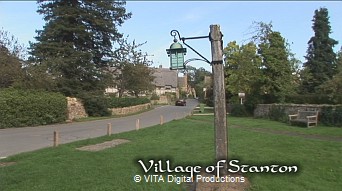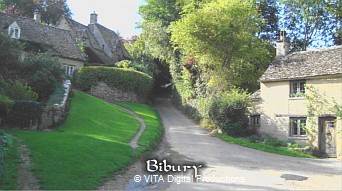 The featurette takes a closer and more intimate look at the villages
of Stanton, Bibury,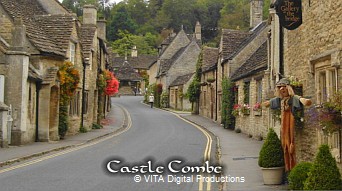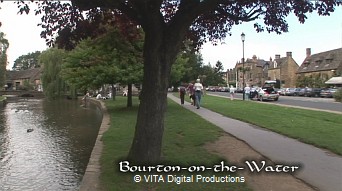 Castle Combe, Burton-on-the-Water,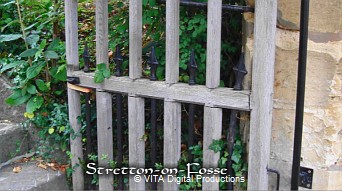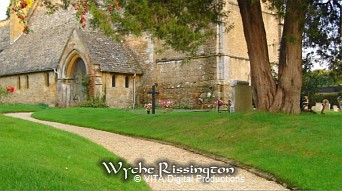 Stretton-on-Fosse, and Wyche Rissington.
---
And remember, this DVD makes a
unique gift
for family and friends!
---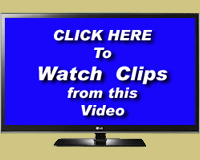 To Purchase this video as a DVD or as a 720p Download, please click here.
---
PRODUCTION NOTES:
This 60 minute virtual walk was filmed at an average speed of 3 mph and is accompanied
by the Natural Sounds in Dolby Stereo as they were recorded on site in each village.
All of the above photos are actual still frames from this video/DVD.
*While originally filmed in High Definition, the DVD you will receive
is in Standard Definition and 16x9 Widescreen and was authored at the highest resolution possible.
The DVD was encoded for regions 1, 2, & 4, and is a "burned" DVD which was duplicated,
tested, and verified in our studio before being packaged and shipped to you.
To keep cost low, this DVD is not shrink-wrapped. For a shrink-wrapped version of this
DVD, please
click here to visit our Amazon Store.
The DVD contains an interactive menu and will play on DVD players and computers.
The Download version is in 720P HD and will play on iPads, Computers, Laptops,
and Netbooks using amost any media player. It will also play on Large Screen TVs using
certain devices such as WD Live Plus, X-Box, Roku, flash drives, etc.
Important: Sorry, but the Download version will not play if you burn it directly to a DVD.
---
COPYRIGHT NOTICE:

We are VITA Digital Productions and we are selling this Video Program.
We filmed all of the video footage used in this program, we edited it,
we have licensed the rights to any music used in this production,
and we own the copyright to this program and will aggressively defend it.

The program contained in this DVD and Download is licensed for HOME USE ONLY.
If you intend to use this program in connection with a business of any kind,
such as a gym, rehab facility, etc., you must contact us to obtain a business license
for a small additional fee.

Please click here to contact us.


---
Images, Text and Layout Images, Text and Layout Copyright 2019 VITA Digital Productions - All Rights Reserved